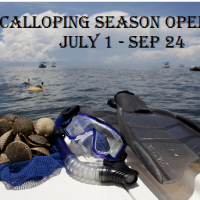 Scalloping Season Opens July 1st
July 1, 2018 – September 24, 2018
From July 1 through September 24, scalloping comes to Citrus County. Part snorkeling experience, part treasure dive and part saltwater fishing trip, scalloping along the unspoiled shores of Crystal River and Homosassa provides a salty adventure to fishers of all ages. Citrus County's bay scallops rest under about five or six feet of water, just offshore along the grassy lip of the Gulf of Mexico. All it takes is a snorkel, a mask, a mesh bag and a saltwater fishing license to get in on the action.
Boater and scalloper safety
Be safe when diving for scallops. Stay within 300 feet of a properly displayed divers-down flag or device when scalloping in open water, and within 100 feet of a properly displayed divers-down flag or device if on a river, inlet or navigation channel. Boat operators traveling within 300 feet of a divers-down flag or device in open water or within 100 feet of one on a river, inlet or navigational channel must slow to idle speed. For more information, visit MyFWC.com/Boating/Regulations and click on "Divers-down Warning Devices."
Bag limits and other regulations
Bag and vessel limits throughout the entire bay scallop harvest zone are 2 gallons whole bay scallops in shell or 1 pint of bay scallop meat per person, with a maximum of 10 gallons of whole bay scallops in shell or 1/2 gallon bay scallop meat per vessel.
Scallops may be collected by hand or with a landing or dip net.
Scallops must be landed within the area that is open to harvest and may not be possessed on waters outside of areas that are open to harvest or during the closed season.
There is no commercial harvest allowed for bay scallops in Florida.
For information on bay scallop regulations, visit MyFWC.com/Fishing and click on "Saltwater Fishing," "Recreational Regulations" and "Bay Scallops."
Recent scalloping seasons have been fantastic. Seafood lovers from all over the Sunshine State and beyond ventured to Citrus to dive for the meaty morsels, having an ocean of fun as they literally bagged their limits.
The bag limit is 2 gallons of whole scallops (in the shell), or 1 pint of scallop meat per person per day. In addition, no more than 10 gallons of whole scallops or 1/2 gallon of scallop meats may be possessed aboard any vessel at any time. You may harvest scallops only by hand or with a landing or dip net. Scallopers must remain in the legal scalloping area (from Mexico Beach to the Pasco-Hernando county line) while in possession of scallops on the water including the point where they return to land.
Scallop Season Arrives!
Levy, Citrus and Hernando counties (including Cedar Key, Crystal River and Homosassa): July 1 through Sept. 24 (previously slated for July 10 through Sept. 10). This region includes all state waters south of Alligator Pass daybeacon #4 near the mouth of the Suwannee River in Levy County and north of the Hernando – Pasco county line.
It is illegal to possess bay scallops on waters outside open harvest areas or during the closed season. It is also illegal to land scallops outside open harvest areas. For example, it would be legal to take scallops from waters off the Hernando County coast, but it would be illegal to dock your boat in Pasco County with the scallop catch onboard. It would also be illegal to transport scallops harvested in zone 2 across zone 3 waters prior to the July 1 zone 3 season opening.
Gear Requirements:
Legal Gear: Harvest permitted only by hand or by using a landing or dip net
Commercial harvest prohibited.
Recreational harvesters need a Florida saltwater fishing license to harvest bay scallops unless they are 1. exempt from needing a license or 2. have a no-cost shoreline fishing license and are wading from shore to collect scallops (i.e. feet do not leave bottom to swim, snorkel, or SCUBA and harvesters do not use a vessel to reach or return from the harvest location).
Links to more Bay Scallop information:
For up to date information:
http://myfwc.com/fishing/saltwater/recreational/bay-scallops/
http://myfwc.com/news/news-releases/2018/june/11/scallop-season/