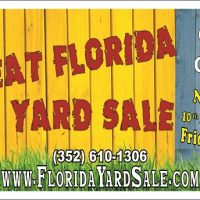 The Yard Sale Extravaganza
Along the 15 Mile stretch on Highway 19 in Citrus County,
It's a Yard Sale Extravaganza!!
Yard Sales are located on "Official Yard Sale Sites", offering lots of vendors in a particular location with good parking!!! 
(Please don't park in right a way! SALES are not in R of W!!)
Official Vendors are located on an Official Siteor a Business along the route. Both will be marked by "Official" signage &
on the Event Happenings Google Map.
Starts @ where ever YOU want!!
Runs from Homosassa to Crystal River!
Sales may be on both sides! Each day can be different !
Don't come early…PLEASE let the vendors set up (first day anyway:)!!
Friday & Saturday 8-4+, Sunday 8-2

 NOVEMBER 10, 11 & 12th, 2017 !!
For more information:
http://www.thegreatfloridayardsale.com/event-happenings-1.html