Ribbon Cutting at The path
January 18 @ 11:30 am

-

1:00 pm
Event Navigation
Ribbon Cutting at The path
 Thursday January 18th 2018 from 11:30 am to 1 pm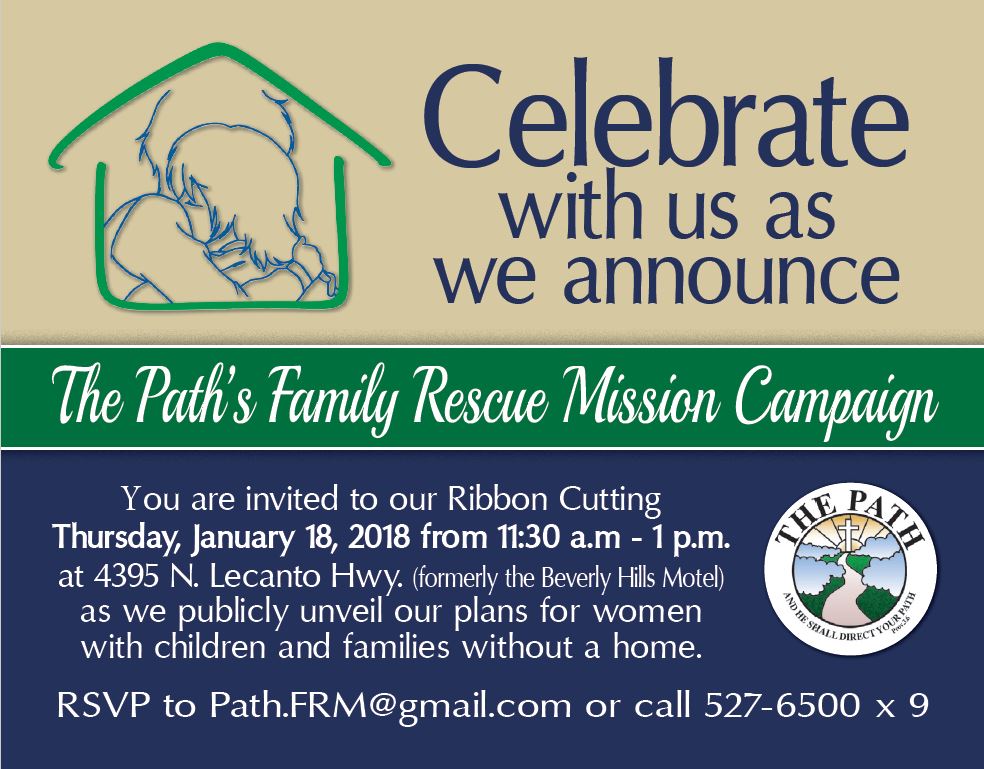 Expansion at The Path means shelter for women and children
(Beverly Hills, Fla.)  People find themselves without a home for a variety of reasons, and for women with children, finding a safe place to call home is a huge responsibility and a difficult process.
The Path of Citrus County is currently working on a capital campaign to fund expansion of services, thus ensuring no one in need, especially families, will be turned away due to lack of space.  A ground breaking ceremony is planned for Jan. 18.
A major component of this campaign is the purchase of the Beverly Hills motel property, which is already complete. Future plans call for the motel site to serve as a Family Rescue Mission, continuing the vision established by The Path in 2001.
The campaign's successful start is due in part to numerous major donors who made this first step possible. What's needed now is a public call to action to help raise the remaining $500K the nonprofit needs to renovate, furnish and operate critical programs and services in this new space.
The Family Rescue Mission, which includes 30 rooms, will allow the faith-based organization to serve dozens of families compared to the few they currently shelter.   According to Path leaders, three out of four calls come from families or women with children, and they are unable to provide assistance due to lack of space and funding.
Public outreach during the campaign will include tours of the facility, a speaker's bureau, several events and a direct mail appeal.  Watch for campaign updates on Facebook and visit our website, PathofCitrus.org. Potential donors are encouraged to learn more by booking a tour or a speaker by email at path.frm@gmail.com.